12 Health Problems Your Hands Are Warning You About
5 Ways Your Hands Are Making You Look Old—And How To Erase Years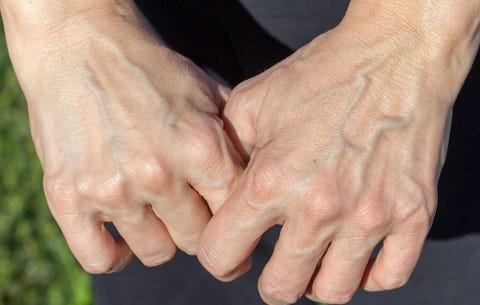 phillip arno photography/shutterstock
Hands have very little fat to begin with, so just the slightest breakdown of collagen and elastin—which happens naturally as you get older—has a big impact. "When we lose soft tissue, the veins and tendons look bigger and ropier," Levine says. "They haven't changed; it's just that now you can see them better."
Reverse it:Even the priciest creams can't plump up skeletal hands, but medical fillers can. While hyaluronic acid fillers such as Juvederm or Restylane are commonly used on the face, Radiesse—a calcium-based dermal filler that the FDA approved for hands last year—seems to be better for this body part. "It's a thick, robust product, so it tends to fill the area nicely," Levine says. It's also opaque white, so there's no chance of bluish discoloration, which can happen with hyaluronic acid-based fillers.
Radiesse is injected into hands in a blob, usually along with an anesthetic, then smoothed out manually. Results last for 9 months to a year. There's some evidence that the injections also stimulate the body's own production of collagen and elastin, which can make the effects last even longer.
MORE:Beauty Experts Are Chugging Bone Broth. Are You?
Advertisement - Continue Reading Below
Advertisement - Continue Reading Below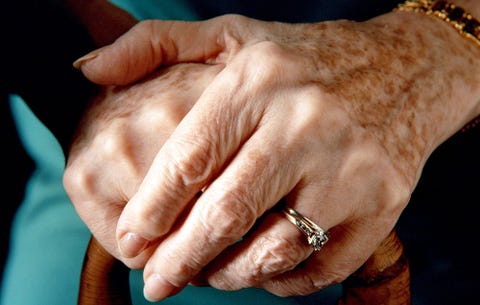 Jeffrey Coolidge/getty images
Blame those brown blotches on too much sun, since our hands are exposed to the elements year-round and few of us think to coat them with SPF. "So-called age spots have nothing to do with age, genetics, or hormones," explains David Goldberg, MD, a clinical professor of dermatology and director of laser research at the Icahn School of Medicine at Mount Sinai in New York. "They're purely sun-related." All that UV damage leads to an overproduction of melanin, which causes those brown splotches to show up even as early as our 30s and grow darker over time.
Reverse it:For starters, apply sunblock to your hands every single day. "To treat spots, you must first learn how to prevent new ones," explains Jeannette Graf, MD, director of dermatology at Omni Aesthetic MD in New York City. (She keeps UV-blocking gloves in her car.) The second step is to use a lightening agent: Graf recommends Glytone Dark Spot Corrector, or Aveeno Positively Radiant Targeted Tone Corrector, which uses a soy complex to keep pigment from reaching the skin's surface.
For faster spot removal, see your doctor for BBL (broad band light) laser treatment. It targets excess brown and red pigmentation in the skin and also encourages collagen production.
Advertisement - Continue Reading Below
Advertisement - Continue Reading Below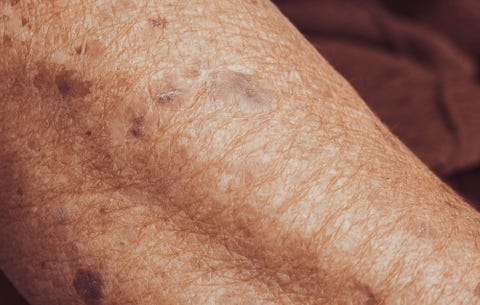 nattapol sritongcom/shutterstock
The trifecta of sun damage, exposure to elements, and natural loss of collagen and elastin can change the texture of your skin from smooth to wrinkly, crinkly, and crepe-like, Levine says. Older skin also tends to produce less natural oil, and dryness can make the crepe-paper effect worse.
Reverse it:Just moisturizing every day with ingredients like hyaluronic acid, glycerin, argan oil, vitamin E and urea—especially after showering and washing hands—will make the skin look more youthful. "The humectants get into skin and plump it up," Graf says. Better still are products that also contain retinol and antioxidants to help rebuild collagen and protect against free radical damage. HAND-MD's Restorative Duo Brightening Treatment has retinol and antioxidants plus algae extract, which boosts microcirculation for a brightening effect.
To really turn back time, consider a BBL treatment at your doctor's office. "It's a form of resurfacing without ablation, or removing any skin layers," Levine says.
MORE:7 Reasons Your Hands Look Old—And How To Fix Them
Advertisement - Continue Reading Below
Advertisement - Continue Reading Below
Washing dishes, digging in the garden, and doing other manual chores can leave hands red and irritated. "The redness comes from vessels dilating," Levine explains, as chemicals involved in inflammation come to heal the irritation. Over time, this temporary damage (and redness) can become permanent.
Reverse it:If you regularly work with chemicals or even water, wear protective gloves. Use a non-irritating soap, like Dove, and slick up afterward every time with a hydrating moisturizer, such as Eucerin Plus Intensive Repair Hand Cream or Cetaphil Moisturizing Cream. In winter, or when skin is chapped or cracked, go for a heavy duty emollient, like Chuda Hydrating Healing Cream or CeraVe Healing Ointment.
BBL treatments at your doctor's office can also help with redness, but only if you use sunblock and take protective measures (like wearing gloves) to fend off further damage.
MORE:10 Ways To Relieve Red Skin Conditions
Advertisement - Continue Reading Below
Advertisement - Continue Reading Below
Like our skin everywhere else, the nail growth plate thins with age. "Ridges are like your nail's version of wrinkles and a hallmark of brittle nails," says Dana Stern, MD, a New York City dermatologist who specializes in nail health. Growth also slows—especially after age 40, Stern says. That might sound like a good thing, but nails that stick around longer get more daily wear and tear.
Reverse it:For starters, avoid chronic chemical and water exposure and moisturize hands daily. File nails in just one direction—don't saw back and forth—to prevent rips and tears. If you have ridges, discoloration, peeling, or a lot of breaks, Stern recommends taking a nail polish holiday, since polish and remover tend to dry out nails. You can also try switching to a non-acetone formula such as Londontown KUR Strengthening Lacquer Remover.
Meanwhile, nourish weakened nails with moisturizers specific to nail and cuticle health, such as shea-butter rich Deborah Lippmann the Cure, or Burt's Bees Lemon Butter Cuticle Cream, with cocoa-seed butter and sweet almond oil. If you're very dedicated to restoring lustrous, shiny nails, Stern recommends her own comprehensive kit, Dr.
Video: 5 WEIRD THINGS MY HANDS DO | Dale Pendlebury
5 Ways Your Hands Are Making You Look Old—And How To Erase Years images
2019 year - 5 Ways Your Hands Are Making You Look Old—And How To Erase Years pictures
5 Ways Your Hands Are Making You Look Old—And How To Erase Years recommend photo
5 Ways Your Hands Are Making You Look Old—And How To Erase Years picture
5 Ways Your Hands Are Making You Look Old—And How To Erase Years new images
images 5 Ways Your Hands Are Making You Look Old—And How To Erase Years
Watch 5 Ways Your Hands Are Making You Look Old—And How To Erase Years video
Communication on this topic: 5 Ways Your Hands Are Making You , 5-ways-your-hands-are-making-you/ , 5-ways-your-hands-are-making-you/
Related News
60 Auburn Hair Colors to Emphasize Your Individuality
How to Make a Shamballa Bracelet
Your Complete Horoscope for April 2019
How to Choose Cut Flowers
MAC Wants To Make You A Heavenly Creature
Linzess Reviews
Kelly Ripas Genius Solution For Dealing With A Snoring Partner
Classic City Wedding Looks: BHLDN Wedding Dresses and The Black Tux
Why Consumption of a High-Protein Diet Requires More Hydration
Why Compound Exercises Get Great Results
Smoked Turkey Salad
How to Exercise Together As a Family
Classic Salad Niçoise Recipe
Letizia y el vestido que vas a querer (y poder) llevar del día a día a una cita especial
How to Draw a Cool Fashion Design
Date: 06.12.2018, 21:18 / Views: 53465
---