Chicken coops in the country: 30+ amazing photos
Beautiful and exotic, practical and original, we hope that the chicken coops in these photos will cause you admiration, delight and a desire to own chickens.
Regardless of whether you are a summer resident or a villager, it is difficult to resist the attractiveness of the idea to have your chickens. And although there are a lot of troubles with them, the general opinion is that the advantages outweigh the disadvantages.
Of course, a good chicken coop is the most important part of keeping chickens. These little birds are completely dependent on you, because they are so sensitive in terms of safety, conditions of detention, light, space and ventilation.
We have gathered for you a large gallery "Beautiful chicken coops of photos" so that you can get inspiration and ideas for your home chicken coop.

These chicken coops are made from different materials for different projects, but they are all made with love and care for chickens.
The chicken coops in these photos are not only a real paradise for chickens, but also a beautiful detail of the entire summer cottage.


When choosing a place under the chicken coop, try to take into account the fact that chickens have the opportunity to choose their place either in the shade or in the sun. Chickens love to take a nap in the sun during the afternoon hours. Also, try to have access to open space. Chickens, who are always locked up, will not be happy.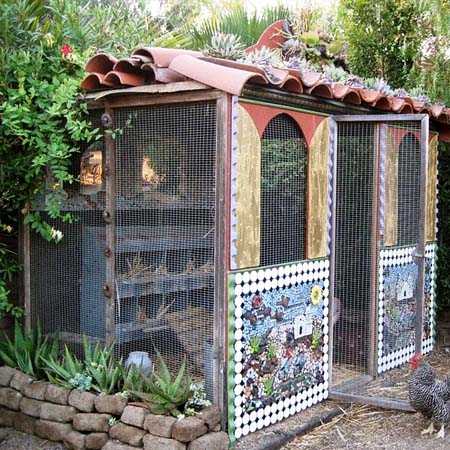 Each climate has its own peculiarities for keeping chickens, but the requirements for the chicken coop are common: protection from predators, a cool breeze in the heat, a comfortable temperature in cold weather and good illumination.


Any owner thinks about reducing the cost of building a chicken coop, but at the same time it is important to do this not at the expense of the functionality and maintenance of the chicken coop,


For the first experience of keeping the chickens do not want to lay out a significant amount of money for the experiment, so some of our chicken coops are made from improvised materials, such as these metal racks.


The basic rule for building a chicken coop is to keep it simple, but interesting enough for you.


After all the needs of your pets in the henhouse project are satisfied, the chicken coops can, with the help of your imagination and ideas in our photos, acquire an amazingly beautiful look.
Related News:
How to find the sine of the angle
Solar Battery
Cool in summer and warm in winter with air conditioners from Mitsubishi Electric
The secret of the splendor of a blooming pillar: a vertical flower bed with your own hands
Irina Andreeva's cute toys Felting
How to cure a cold in a day
How to make an evacuation plan