Counters: modern designs for trade and not only
Space in any enterprise can be filled with any kind of equipment. Here are just some possible solutions:
• Stand alone counters.
• Open sections.
• Pavilions.
• Kiosks.
Especially important for those who place high demands on the level of profitability. Ideal - when the location of such points is thought out at the design stage of the premises themselves. But there are many situations when you need to make adjustments to the original characteristics.
Calculation or spontaneity?
The concept of any island modules try to develop as implementation. Indeed, in the future, these details affect the economic factors associated with a particular project. That is, the fact that there is an island construction is laid down while the marketing strategy is being developed.The most important characteristics are the placement along with the dimensions.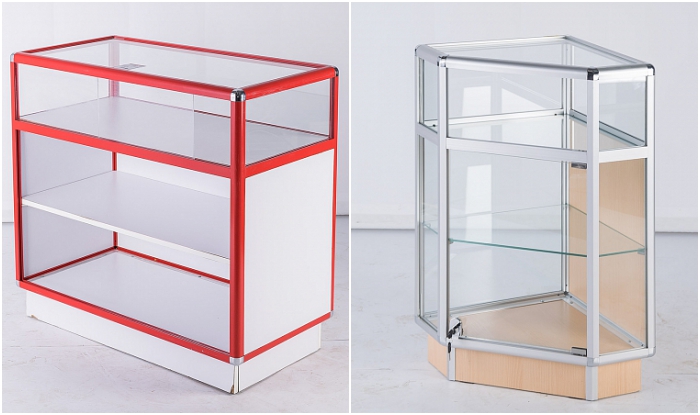 But experts have different opinions on this issue, often - the opposite. Some say that island trade, on the contrary, is planned by very few people from the very beginning. In advance the concept of accommodation is developed by the forces of landlords with sufficient experience in solving similar issues.
The spontaneity of filling space is more typical for objects with small areas. Then the appearance of islands is caused by the need to win as much profit as possible, even if the concept is not very successful.
But the option with a thoughtful placement of the islands is much more successful and efficient.
Island counters: about the advantages and disadvantages
Each island has its own positive and negative sides. The advantages include:
1. Possibility to locate in the place where the maximum number of buyers crosses.
2. Ensuring high cross.
3. An excellent balance between the cost of rent and the space provided.
But it didn't do without some negative:
• A small space that is sometimes not enough to display the entire assortment.
• Strict requirements for shapes and sizes.
But the disadvantages are more characteristic when placed in shopping centers. If the equipment is required for the specific purposes of the enterprise, then it will be easier to resolve the issue.
Inexpensive but stylish solution
Often shopping centers make demands, both to the technical characteristics of the equipment, and to their appearance.
The best option for cooperation can be described as follows. The administration of the center or the owners of the premises constantly choose only 1-2 contract organizations, which already know all the requirements, features of the work. Tenants and new customers need only set part of parameters.
The more quality the project was used to create a shopping center or the original square - the better it will be.
About modern materials and technologies
The main thing is to choose an appearance approved by both parties.
Materials may vary. The least durable are structures made of chipboard.But plastic is considered more resistant to any external damage. The rich color palette from which any decoration option is chosen will delight customers.
Related News:
Answear - propozycje ubrań dla każdego
What are the types of flower soil
Ornamental Tree
Learn to cook Korean appetizers: sea kale
How to make peach jam for the winter - photo recipe for the slow cooker
Liver Cake
Earrings from an old handbag