How to make a children's bedroom for a boy? TOP 3 interior
Children grow very fast, we do not have time to blink an eye, as instead of a cradle the child already needs a full bedroom where you can study, play, relax and spend your free time. And now, when it's time to do repairs in the children's bedroom, parents often begin to cling to the head: how to create an interesting interior, make the room as functional as possible and catch the desires and dreams of the child?
We offer TOP 3 ideas for a boy's bedroom that delight our youngest ones.
1. Bedroom for a football fan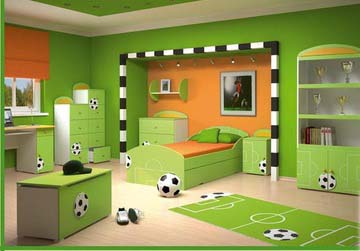 How to create: Mostly green room color, carpet in the form of a football field, ottomans in the form of a soccer ball, improvised gates, football attributes, photos of your favorite football players.
Many boys love to play football, including in the living room.Therefore, so that the child does not destroy everything around - it is much better to select a place in the house where he with a clear conscience could train to score goals. Or it's just worth encouraging the child's interest in the sport, supporting his intentions and hobbies.
2. Bedroom for a little racer
How to create: A bed-machine, photo wallpaper with the road, asphalt flooring, check boxes in Formula 1 style.
This is my dream as a child. A bed in the form of a Ferrari or Audi with burning headlights, lights, a spoiler .. For happiness, nothing more was needed. Boys often show great interest in cars, ask to steer, turn admiringly on beautiful sports cars. Therefore, childhood in such a room will be happy. And the great advantage of this design is that the room will be relevant until a rather adult age, because in 15 boys love cars no less!
3. Bedroom - just space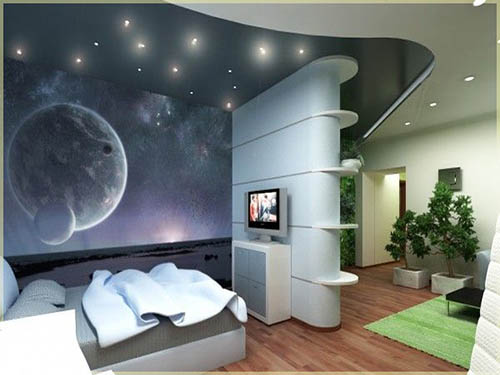 How to create: ceiling - starry sky, mural with planets, telescope
Well, what kind of boy in childhood did not dream of becoming an astronaut? To conquer the spaceship of the universe on a spaceship,wear a spacesuit and feel weightless ... Give your child the opportunity to fantasize. Expand the boundaries of his consciousness. The boy's interest in astronomy and the secret of creating the world should in any case be supported by his parents. You can also save a lot of space in the room by creating a cabin on a spaceship where everything should be at hand.
If your child is interested in music, sports, science or something else - his room should be a reflection of his interests. When children feel comfortable in the room, they have space for imagination and games - they will certainly succeed in their favorite business and will thank you for encouraging their hobbies as a child.
Related News:
High-rise washing of windows and facades
The first vertical forest in Asia that will convert CO2 to 60 kg of oxygen daily
Restoration of rusted surfaces
Parametric stabilizer on a transistor and a zener diode
What make oil
How to make a trust payment
Tunic - a versatile model for every woman's wardrobe
Postcard-cake