How to make a MockingJay Pin (From the Hunger Games)
How to Make a Mockingjay Pin
Two Methods:
The novelThe Hunger Games, by Suzanne Collins, has taken the world by storm and left many fans wanting to show support for the resistance movement against the Capitol of Panem. If you are one such person, you may want to express your fandom through a popular prop in the series, the mockingjay pin. This pin, worn by hero Katniss Everdeen, is iconic to the series, and with a little effort, you too could be wearing one of your own.
Steps
Creating a Cardstock Pin
Gather your supplies.

The base of your mockingjay pin will be cardstock cut out in the image of the mockingjay. Cardstock that is thin and rigid will help your pin appear the most authentic. Other materials you'll need to transform your cardstock pin include:

Compass/drinking glass
Glue (1)
Glitter (gold and silver)
Hairspray
Paint brush (1)
Safety pin (1)
Scissors
Scotch tape (1)
Stiff cardstock (1)
Tracing paper (unlined preferred)

Cut out a mockingjay image.You should trace your image onto your thin, unlined tracing paper by laying your paper atop the mockingjay design on the cover theThe Hunger Games.Then use a pencil to copy the image. Once your image is complete, you should cut it free.

Cut a cardstock circle for the outer pin frame.

The classic mockingjay pin is represented by a bird carrying an arrow suspended in the center of a circle. To make this outer circle, you should trace a glass that is about three inches across at the base along its bottom, or use a protractor to make a similar circle.

Cut the resulting circle free from your cardstock. Then, remove the inside of the circle so that only an outer ring remains.
Your outer ring can be as thin or thick as you desire, but the novels represent the outer ring as being relatively thin.
Don't cut your outer ring so thin that it is too flimsy; this will make your pin look less sturdy.

Glue your image to the cardstock.

Using a thin layer of glue, attach the edges of your mockingjay image onto your cardstock circle. Be careful not to use too much glue, as this can create an uneven or bumpy appearance in your image. Using a paint brush can help you apply a thin, even coat of glue.

You should wait until the glue is fully dry to guarantee a good seal between your image and cardstock.

Add glitter to your pin.

This will give it a metallic appearance, just like the real thing! After the glue has finished drying, determine which colors you want to use to give your pin some flair. You may want to use gold glitter on the outer circle and silver for the mockingjay body, mix the silver and gold together, or maybe pure gold is more your style. In any case, you should:

Place a spare sheet of paper beneath your pin to catch any stray glitter.
Paint a thin layer of glue onto the surface you will be applying your glitter.
Sprinkle your glitter onto the glue you have painted onto your pin.

Attach your safety pin.The easiest way to do this is to flip your pin to the back and tape a safety pin in place with scotch tape.For sturdier designs, you may want to consider using hot glue to attach your safety pin to the back of your design.

Prevent flaking.Over the course of your wearing, glitter can become knocked loose and make a mess. To keep this from happening, you can lightly spray hair spray onto the glitter. Check the label of your hair spray before you use it, as scented hairspray might not be ideal for your purposes.
Designing a Duct Tape Pin
Assemble your pin making necessaries.

Though you can make this pin with normal duct tape, you may find that using metallic silver and gold duct tape gives a more realistic effect appearance. For this project, you will also need:

Duct tape (black and gold)
Eye pin (two inch)
Hot glue gun (and glue)
Permanent marker
Safety pin
Scissors
Seed beads
Wax paper

Trace the outer circle onto your wax paper.

Cut a square of your wax paper so that it is big enough to overlap the image of the mockingjay you will be tracing.Lay your square of wax paper atop the image and then:

Use your permanent marker to outline the perimeter of your mockingjay pin image onto the wax paper.

Layer black duct tape over the wax paper.Take a strip of your black duct tape and cover your circle with it so the black tape completely covers one side, extending a little beyond the edges of the circle you have drawn on all sides. You should still be able to see the outer line you have traced on the un-taped, reverse side of your wax paper.

Cut free excess paper and tape.

The circle you have drawn will form the outer boundary of your pin, so you will need to cut it free from extra tape and paper before moving on. Use the lines on your wax paper to guide your cutting until you have a black circle. When you have completed cutting, remove the wax paper from the tape.

You may want to leave at the end of the outside of your circle. This can make it easier to remove the wax paper from the black duct tape.
If you leave a tab, be sure to cut it after you pull the wax paper free so that you end up with a regular circle.

Layer gold duct tape onto the reverse side of your circle.To ensure that all gray areas on the sticky, reverse side of your circle are covered, you may want to extend your gold tape beyond the edges of the circle.Then you can cut any excess gold tape free by following the outer edge of your black circle and using it as a guide.

Trace the inside of your mockingjay pin image.

You will be using the negative space (the space not filled with color) of your image to bring out the image of the mockingjay on your gold background. To do this, you'll need to:

Copy your mockingjay pin image, including the bird inside the outer circle, onto the wax paper.
Use a second piece of wax paper to draw the empty (negative) space between the outer circle and inner bird of the image.
Plan to leave tabs on your negative space cutouts to make removing the wax paper easier (optional).
Cut the negative space free, dividing it into four sections: top, wing, left, and right. These sections, when arranged together, should form the outline of a bird.
Layer black tape atop the negative space wax paper cutouts.
Remove any excess tape with your scissors.

Create the mockingjay bird image with the negative space.

One section at a time, pull the black tape free from the negative space wax paper cutout and adhere it to the gold taped side of your circle. Arrange the black tape so it resembles the image of the pin, so that:

The black tape represents the empty spaces of the pin.
The gold background forms the outer circle of the pin and central image of a bird.

Create an arrow.

The mockingjay pin that Katniss wears holds an arrow in its talons, so yours should as well. Take your eye pin and thread black seed beads onto it until there is only a little metal remaining at the pointed end of the pin. Then you can:

Sandwich each end of your eye pin with one square of gold tape apiece.
Trim the back in the shape of a V, with the top of the V pointing backwards.
Trim the front in an arrowhead shape, with the front of the arrowhead pointing frontwards.
Use a dab of hot glue to attach your arrow to the front of your mockingjay pin.

Attach a safety pin to the back of your pin.

Your mockingjay pin is now nearing completion. You only need to use a thick piece of duct tape to adhere your safety pin to the black back of your design and you should be finished.

You might also consider using additional metallic tape along the wings, tail, and head to accent your mockingjay pin.
Community Q&A
Question

If I'm using tracing paper for the Mockingjay image and sticking it on the outer circle, will it be sturdy enough?

wikiHow Contributor

Community Answer

The sturdiness depends on how sturdy your outer circle is. If you are are still worried, try using card stock paper or very thin cardboard.
Ask a Question
200 characters left
Include your email address to get a message when this question is answered.
It can add an extra element of realism to your pin if you paint your pin with gold paint, which is available at most stores and craft stores.
Video: Tutorial: Mockingjay Pin made with polymer clay (from "The Hunger Games")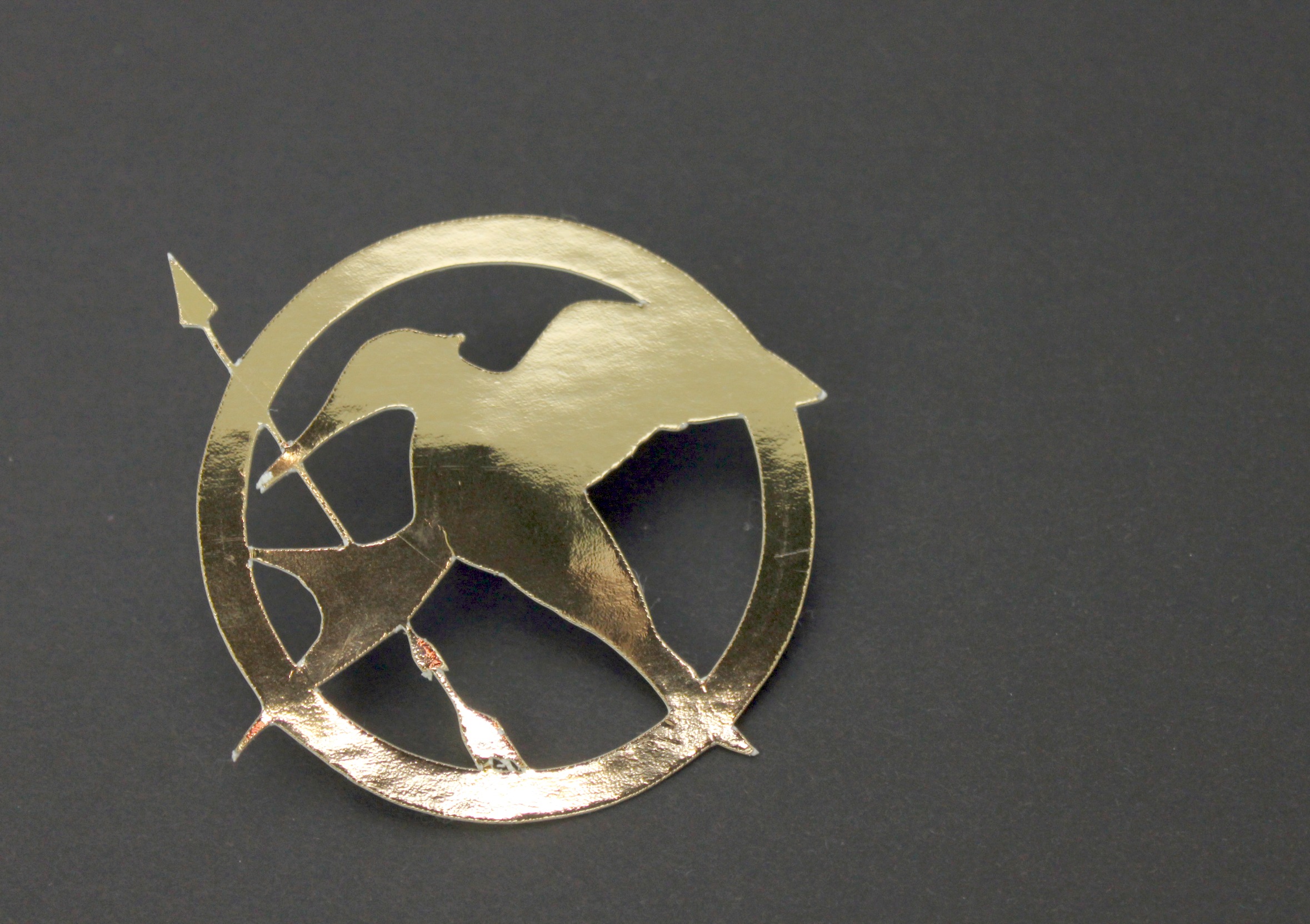 How to Make a Mockingjay Pin images
2019 year - How to Make a Mockingjay Pin pictures
How to Make a Mockingjay Pin recommendations photo
How to Make a Mockingjay Pin images
How to Make a Mockingjay Pin new picture
pics How to Make a Mockingjay Pin
Watch How to Make a Mockingjay Pin video
Discussion on this topic: How to Make a Mockingjay Pin, how-to-make-a-mockingjay-pin/ , how-to-make-a-mockingjay-pin/
Related News
Blake Lively Is No Longer a Blonde
Candy Bark
Jennifer Lawrence
All Parents Need to Read This Moms Warning About an Overlooked Flu Symptom
How to Make Your Own Soap
How to Use Sound for Therapy
How to Start a Native Plant Garden in New Zealand
Prince William and Kate Middleton have been giving life lessons to children, and it's seriously sweet
How to Treat Ulcers Naturally
Shop Spectacular Vintage Gaultier Pieces Online, Thanks toFarfetch
Date: 16.12.2018, 03:16 / Views: 73275
---