Illumination with ice tapes for ceiling decoration
Light is readily used by designers in the interior. Particularly interesting is the solution with the use of hidden lighting. It changes the space beyond recognition, "shifts" the perspective, creates new outlines. For this purpose, special lamps are hidden in the niches, creating a continuous or dashed light line with. It turns out the amazing effect of weightless soaring. Such a backlight cannot be called functional, it's just a decoration.
Traditions and novelties in the ceiling lighting
Until recently, the room was lit traditionally - with chandeliers, floor lamps, wall sconces. This completely solved the functional problems, and the light was enough. But the space for designers was not enough.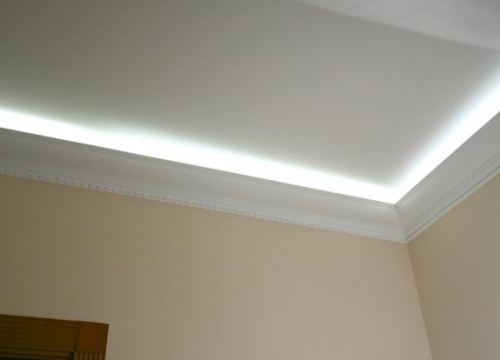 Today, technology has progressed so far that it has become possible to change the architecture, "push" and "change" the geometry of rooms due to the light.Even low ceilings will visually "fly up" after installing the LED strip behind the eaves. Lighting certain areas or architectural elements visually breaks the usual squareness.
Designers have a tool for creative diversity. It begins with the list of types of hidden ceiling lights:
- spot (fluorescent lamps in niches and turning spots);
- LED stripes
- duralight bands;
- a tube with neon.
Hidden lights can not claim to be the main lighting, but it works fine in tandem with traditional ceiling lamps and chandeliers.
A variety of hidden backlighting
You can install hidden lighting in many ceiling structures. Suspended ceilings perform complex, multi-level, hiding several LED strips or neon tubes in them at once. Perfectly combined stretch ceilings and spotlights. However, they also look good with fiber-optic threads.
The magic effect of"starry sky", made with the use of dotted LEDs hidden behind the ceiling, is an excellent solution for a child's room.And in a stylish modern living room, it is appropriate to use colored LEDs, programmed for different modes of lighting.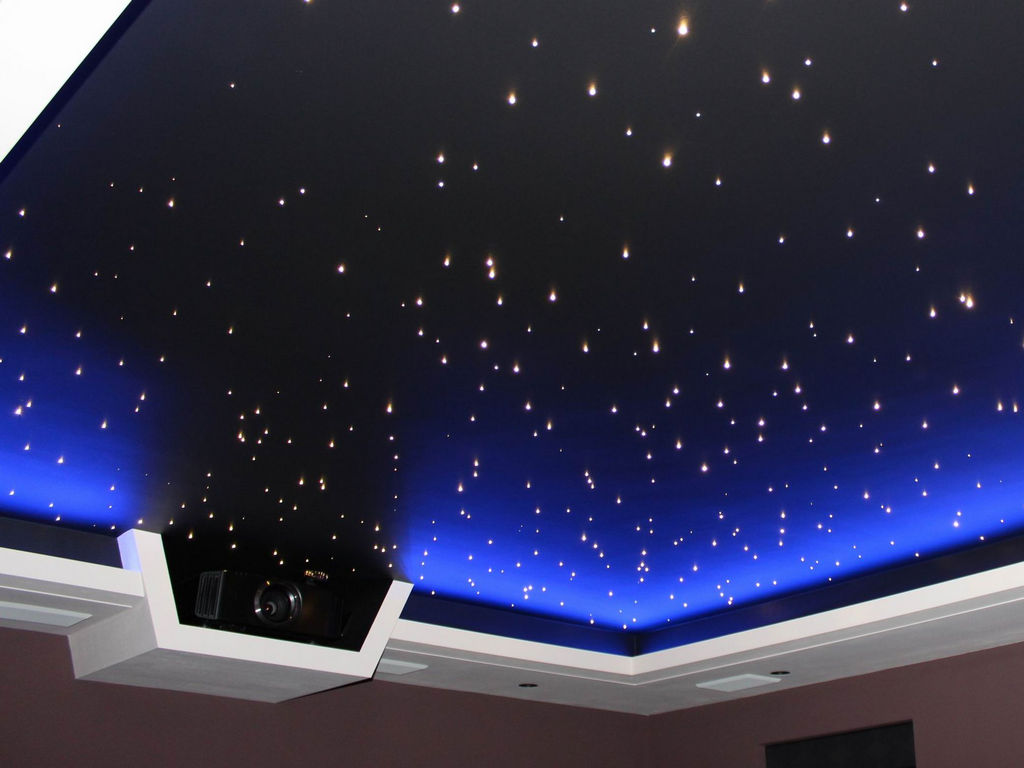 The room in which the hidden lighting is used through the water column (for example, through a room fountain or a large aquarium) is completely fantastic. The whimsical glare from LEDs turns the dwelling into a mysterious grotto, creating an atmosphere of the underwater kingdom.
Work nuances
Hidden highlighting is performed according to a specific pattern. Ceiling structures are created, wiring is laid on them and only then strengthens the light sources. The specific type of lamps and fixtures is selected based on the purpose of the room and the overall style. In the bedroom, lamps are preferred with a yellow light, in other rooms - devices that spread white warm light.
Already at the stage of project development, hidden decorative lighting requires special attention. Therefore, it is better to involve specialists familiar with technology and security requirements.
Related News:
Sweet Amigurumi Monkey
Developing a child's sense of responsibility
Crafts from diskettes
Glass pendant
We decorate the marble table top
Original drawing technique for children
How to make a decoupage box