Soft furnishings in the kitchen: choose a kitchen corner
The kitchen is the place where not just the process of cooking takes place, you can gather here with your family to share your joys and problems, comfortably drink a cup of tea or tell the secrets to your girlfriend. In a word, this corner in the apartment requires special attention and a special atmosphere. Fortunately, today there are no problems to make this part of the house both comfortable and unique. And what could be more convenient than a kitchen corner?
Let's start with what we'll find out, and what is it? a set that includes chairs, a table and a corner sofa with a soft seat and backrest. It is very convenient when the kitchen has a small area, because this option helps to save space. And on top of that, it's also beautiful. All family members will be happy with this purchase, as it will allow the family to spend time in the kitchen together, rather than taking turns.And another surprise is that under the seats there are special lockers in which you can place the dishes. Some manufacturers have gone far and provided sleeping places.
What needs to be considered when making this purchase? The first is the size. From how correctly they will be executed, your further comfort depends. If improperly assembled, some of the furniture may make it difficult to move or simply take up extra space. Therefore, please note that there must be at least 1 meter distance between a corner and any other object, for example, a door or a closet.
Standard seat depth is about half a meter. It is under these conditions that it will be most comfortable for a person with an average build to sit. Between a table and a sofa, make a stock of about 80 cm, then you can easily get out of it. So details that are insignificant at first glance should also be paid attention to. Sitting near the stove is both hot and dangerous, since droplets of fat per person can come from the food cooked on the stove. And from a sink water drips, besides its noise interferes with sincere conversation. Best of all, if the corner will be located near the window.Agree, it's so wonderful - to contemplate a picturesque view during a meal. If everything is clear with the location, you can think about which material will be preferable. It should be noted that this part of the furniture you have to work quite often, so the material should be one that can be easily cleaned. You should choose a tree or extruded material. The first option will be of higher quality, and the second is at a more affordable price. To be both beautiful and comfortable, the corner should be upholstered. This is suitable for leather, microfiber, flock, velor or plush.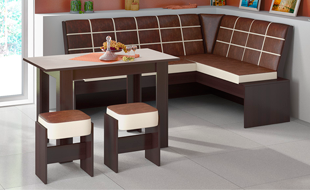 Leather coatings can boast of their durability. But two things can play a role here. The first is availability, the second is a combination of the style of the kitchen with the chosen material. If the cost of natural leather exceeds your budget, then you can use the simulation, this option is so high quality that only you will know about the substitution. Microfiber is a worthy option, very hardy to maintain and retains its color. Flock is not a natural material, but a synthetic material, but it is inferior only by its service life.It is better to choose a diagonal weave, this will ensure long years of using the product. Plush or velor is nothing special, they are quite suitable for the budget option, easy to care for and pleasant when in contact with the body, and therefore in demand. It's time to take care of the filler. Even without hesitation, you can choose polyurethane foam. And if you prudently install spring blocks inside the seats, such a technique will provide rigidity, so that the very shape of the chairs and the sofa will hold. Depending on the location of the kitchen, you should choose the shape of the corner. If you have niches or corners in the room for eating, then choose a semi-circular shape. Such a viant is perfectly combined with a balcony, which is combined with a kitchen. The shape of the letter G. Here there is a choice: either right-sided or left-sided corners. It is worth noting that some elements can be reset and independently adjust the position. About these points you better tell the sales assistant. Also ask about chairs or stools, which often go in addition to the common kit. One of the well-known is the option in the shape of the letter P.This sofa covers the kitchen table on three sides, so there is no need for additional chairs. You can use this offer if you have a large enough kitchen room. Consider all the options before you make the final choice, because your comfort will depend on this decision.
Related News:
The long road to Eurovision: The personal life of Sergey Lazarev
Leather Passport Cover
Baby gift envelopes for money or gift certificates
Organization of the competition on a special platform: main features
Leather Card & Business Card Case
It is realistic Where to find summer shoes up to 1000 rubles
How to make a box with your own hands